Starting the first day of school is an undeniably exciting time for both kids and parents! For those children who are younger, like preschoolers, kindergartners, and first-graders, this experience can be exhilarating but unfortunately stressful, too.
Alleviate that stress even a little bit by making sure that your child is adequately prepared for tackling this big day! That way, they are ready for any and every circumstance in class, are less likely to get stressed or upset, and more likely to enjoy themselves.
That is precisely why we have compiled this list of 9 first day of school essentials. Preparation and organization is the key to success, after all! Without further ado, let's take a closer look at these top ten first-day of school necessities.
1. Backpack
This should go without saying but we are going to say it anyway: make sure your child has a backpack. This will not only properly store their belongings in one convenient and easy-to-carry place but will also assist them in bonding with classmates! It will provide them with a talking point to get them better acquainted with fellow students and potentially even make some like-minded friends.
We recommend opting for a backpack that features their favorite cartoon characters, colors, designs– anything that will boost their excitement about wearing it! Don't forget to add a School Label to the inside with their name and address, too, so they don't leave it behind in the classroom or get it mixed up with other students!
2. Water, Juice, Snacks, and Lunch
Whether it be snacktime, lunchtime, or a moment in between, your child will undoubtedly require some form of nourishment to keep them going throughout the day. Send them off on their own with what they love to eat and drink: water, milk, juice, healthy snacks, and a healthy lunch.
Opt for spill-proof water bottles as well to lessen the chances of leaks and spills.
Properly label their snacks and meals in reusable containers with our Meal Time Labels, which will show which container is your child's and what the contents are for, such as morning-snack, afternoon-snack, lunch, etc.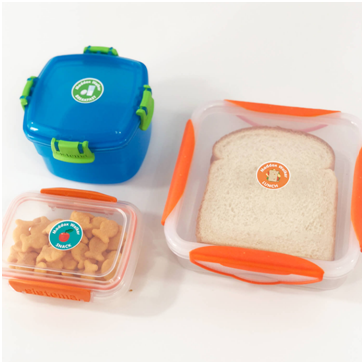 3. Extra Apparel: Socks, Underwear, Pants, Shirts, and Masks
For younger students, accidents happen, so it's best to make sure your child (and ultimately their teacher) is prepared to handle all of them as they come. Pack extra apparel, such as socks, underwear, pants, and shirts. You should also pack extra masks in case theirs breaks, gets wet, or is ruined in any way.
Before packing them, however, place clothing stickers on each item to lessen the chances that they get lost, misplaced, or mixed up with another student. Trust our Stick-on and Iron-on Clothing Labels to do the job as they are highly durable, laundry-safe, and come in a variety of enamoring colors and designs.
4. Medication and Other Health Requirements
If your child requires medicine, then they should certainly be going to school with their medication. Before the first day of school, however, communicate with the school and teacher and lay out the specific medical needs of your child.
In order to keep their medicine tidy and well-organized if/when they do require their medication, apply our Medical Labels or Allergy Labels. These labels can not only be applied to specific medicinal equipment, such as epi pens, but also can provide vital information on your child's health requirements, like if they have Autism, are diabetic, or have specific food allergies.
These Safety Labels also can carry solely your child's name on medical equipment or have more detailed information on its administration. Have peace of mind when you send your child to school with their medical needs effectively taken care of with the help of these labels!
5. School Supplies
Most schools provide a list of school supplies that your child will need throughout the school year. If this is available, consult the list and gather the items on it, which will likely include items like pencils, crayons, highlighters, art supplies, notebooks, and binders or folders.
When gathering these items, carefully place Pencil Labels on all of their writing utensils and School Subject Labels on their notebooks and binders to keep them organized. It will greatly assist your child in keeping everything in one place (and even lessen the chances of them asking to borrow a pencil because they've lost theirs!).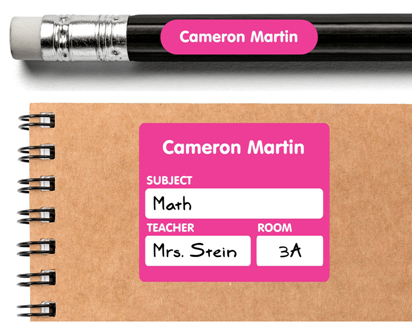 6. School Stickers and Labels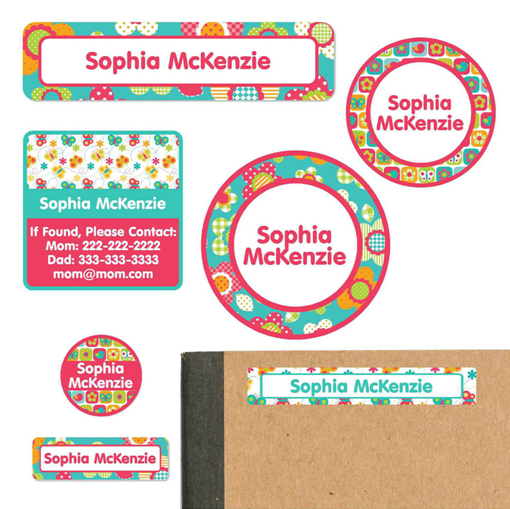 Place sturdy and waterproof school stickers on their school supplies, lunch box, lunch containers, and backpack to ensure that those labeled items will not only go to school with your child but come back home with them, too!
Our School Label Packs are ideal for younger students who have quite a lot of supplies to keep track of. Meanwhile, our School Essentials Label Packs are superb options for older students or those who don't have too much to organize. Be sure to browse both to find the right options for you and your child, all already put together for you, ready to go! You can also split any of our label packs with multiple names by typing "Split" in the name field and listing the names in the "Special Request" field, we'll split the pack evenly between the names entered.
Don't forget to utilize our Clothing Labels to properly assist in identifying your child's school uniforms, sports uniforms, sweatshirts, jackets, and other apparel– anything they might leave on the playground! These will even help you if you have children who attend the same school who require a specific uniform. Organization for both home and school: what's not to love?
7. Two-Pocket Folder
Regardless of if this is on the school supply list or not, we highly recommend that you send your child off with a two-pocket folder. This type of folder will keep all of their loose papers in one safe and it's a great way to communicate back and forth with the teacher as needed.
8. Naptime Supplies
For Pre-K students, after their exciting morning of running around, meeting new people, and learning, they will very much be ready for their well-deserved naptime– but make sure their naptime supplies are there for them so they can rest without worry!
These naptime supplies typically include a blanket roll which you can label with a clothing label to ensure their blanket roll comes home weekly for washing.
9. Gift for Their Teacher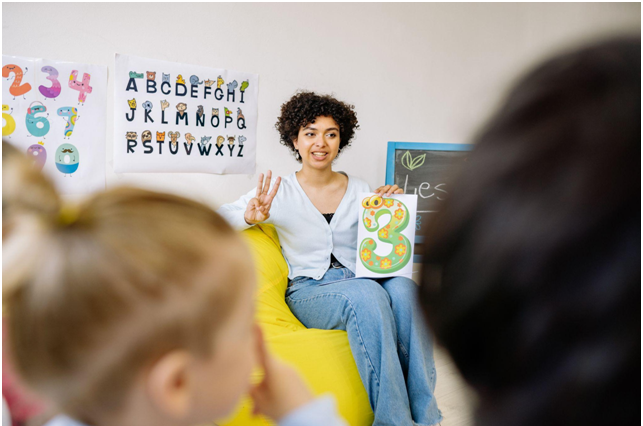 The first day of school is a day filled with emotions: excitement, anticipation, and anxiety. These emotions are not solely felt by your child or you, however– their teacher feels them, too. By sending your child to school with a thoughtful gift for their teacher, they are instantly building rapport with their instructor and making him or her feel appreciated for their hard work. Our Party Label Packs offers 9 labels you can customize for their teacher and they will be proud to give it to their teacher showing the design they choose. Accompany it with a shopping or coffee card that they will be sure to appreciate and love! And when it's time for that class party, be sure to come back and customize a Party Label Pack for each of your child's classmates.
When looking for making the first day of school as enjoyable as possible, we cannot recommend proper organization enough, which helps build your child's independence! Packing the essentials ahead of time is a great way of doing so, but so is using school stickers and labels on everything your child needs.