Getting ready for daycare? Make sure you have all your supplies ready to roll - and don't forget to label them!
And yes, that means preparing your bottles with bottle labels for daycare.
Specifically, it means preparing with labels that will work around your and your daycares needs - not complicate your life!
Here are some frequent questions on bottle labels for daycare - see if yours is listed here and contact us at 1-888-780-7734 if it isn't!
1. Why is it important to label bottles for daycare?

Obviously, the most important reason to label your bottles for daycare is so that anyone can tell at a glance which baby the bottle belongs to.
However, there are other practical reasons for labeling, too. If you mix your formula ahead of time, and keep some in the fridge, for example, it's important to know what you put in the bottle, and when you filled it. For breast milk, you need to keep track of when the milk was expressed or thawed.
Daycares also have specific rules for bottles that must be followed. Our bottle labels help ensure that you and your daycare provider both have what you need to manage your inventory and easily prepare for the day or week ahead of time!
2. What is the best way to label bottles for daycare?

We offer several different types of bottle labels for daycare so you have several options at your disposal.
Our rim labels are designed for all the popular bottles on the market and include our curved, slim bottle rim and standard baby bottle labels. Curved and slim rim labels can be applied to the nipple ring of most popular bottles on the market today. Standard rim labels can be applied to large nipple rings or top of the bottle itself.
We also offer rectangle bottle labels in large and small sizes. These are designed to be applied to the body of the bottle itself.
3. Are labels rewritable?

You can write on our labels, making it easier to update dates, notes, and other details.
Select labels come with a semi-permanent marker and a wax-based pencil, though add-ons are optional.
4. How do I clean writing off the labels so I can rewrite on them?

If you use the semi-permanent marker, the ink can be washed off with water. The wax-based pencil's writing can be removed by wiping with a clean cloth.
Then, simply dry off the label before rewriting on them.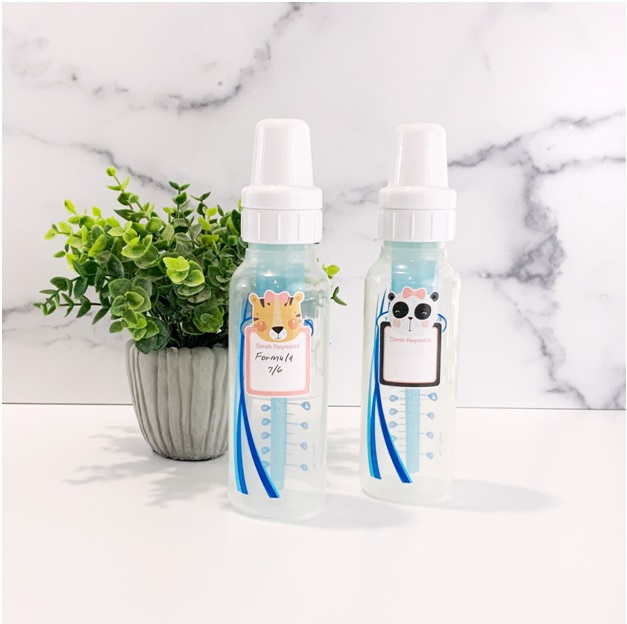 5. Are labels waterproof?

Yes, our labels themselves are waterproof once applied and you write on them daily as needed. Bottles with labels applied can be warmed in bottle warmers or microwave and cleaned in bottle sterilizers or dishwasher (we recommend top-rack placement).
6. Can I put bottles in the fridge or freezer once the labels have been applied?

Yes, our labels are both fridge and freezer safe once applied, so you can fill and label bottles ahead of time.
7. What materials are Sticky Monkey's bottle labels for daycare compatible with?

Our baby bottle labels for daycare are compatible with a wide range of different materials, including, of course, plastic and glass (which most baby bottles are made of, anyway).
These labels will also adhere to metals, paper, and cardboard if need be.
8. Do I need to prep a surface before I apply these labels?

We do ask that you preclean the surface that the labels will be applied to with isopropyl alcohol to ensure that oils or unseen greasy substances do not interfere with the adhesion. After that, just make sure the surface is clean and dry before applying - dust and water will prevent proper adhesion.
9. Are there any materials these labels won't adhere to?

Please be aware that our bottle labels, and any labels in general, will not stick to silicone bottles. This is why we have developed our rim labels.
10. Will labels come off?

Labels are waterproof, dishwasher, microwave, freezer, fridge, sterilizer safe, weatherproof, and tear-resistant, but they can be removed with intent so supervision is recommended at all times.
11. How do I make sure my labels last?

Caring for your bottle labels for daycare is one of the secrets to keeping them in top shape. We recommend that you don't put our labels through sanitary dishwasher cycles, and if you apply them to metals, we recommend handwashing only.
Do not use bleach, bleach additives, detergents with essential oil additives, as these can degrade the print on the labels and the adhesive.
12. What brands of baby bottles will these labels work with?

For the convenience of our customers, our bottle labels are specifically designed to fit most popular brand-name baby bottles on the market today.
Our Curved Bottle Rim Labels are designed to fit AventⓇ and Tommee TippeeⓇ bottles, along with other bottles with a slant back nipple rim.
Our Slim Baby Bottle Rim Labels are designed to fit ComotomoⓇ baby bottles and others that have a straight vertical nipple rim.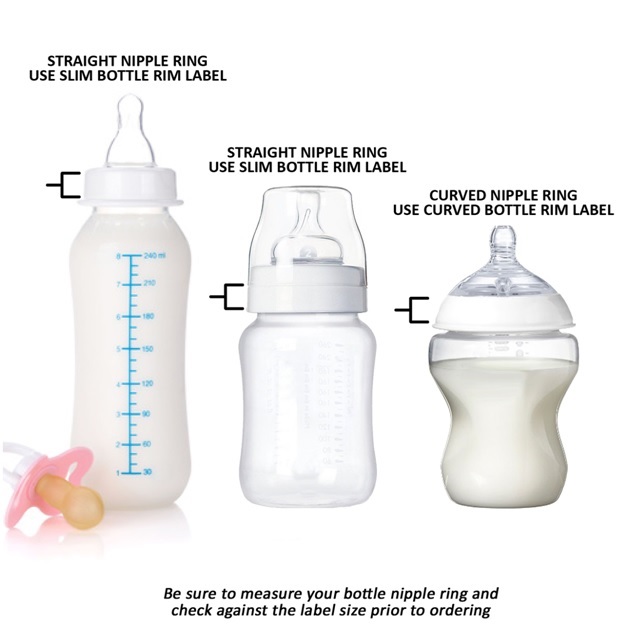 Need More Than Just Bottle Labels for Daycare? We'll "Stick" by You!

We carry a wide range of practical, customizable, reusable labels in addition to labels for baby bottles, including write-on labels, clothing labels (both iron-on and stick-on), and waterproof name labels. We also sell convenient label packs so you can get everything you need for daycare ready and together in one fell swoop!
Take a look through our categories and through our Label FAQs section and get in touch with us if you need additional assistance!