Summer is just around the corner, which means so are all the exciting summer activities your child loves! Your child is likely excited to finally get out of the house and play outdoors in the sunshine with their friends.
One of the best ways of ensuring your child gets to play outside but also gets an all-encompassingly enriching yet safe experience is by sending them to a summer camp. Summer camps tend to range in length, from just being a single day to over a month (or even the entire summer!).
If you are sending your child to a sleepaway camp, you can already guess that you'll be required to prepare a whole lot more than you would for just one day at a summer camp!
The better prepared your child is for sleepaway camp, the higher the likelihood is that they'll thoroughly enjoy themselves! Let's take a look at 15 items your child needs for sleepaway camp, from clothing labels for camp and beyond!
1. Bug Spray

During the summer, the mosquitos and other pesky insects are on the prowl. Make sure your child is properly protected against these bloodsuckers by packing bug spray. That way, they can fully enjoy all the fun outdoor activities both during the day and night.
2. Sunscreen

It is likely that your child will be playing outside in the brilliant sunlight almost every day. However, you don't want them to damage their skin from too much sun exposure! That is why sending them to sleepaway camp with enough sunscreen to protect them and their skin is so crucial.
You should provide them with sunscreen that is at the very least 15 SPF, but higher is definitely more ideal.
3. Clothing Labels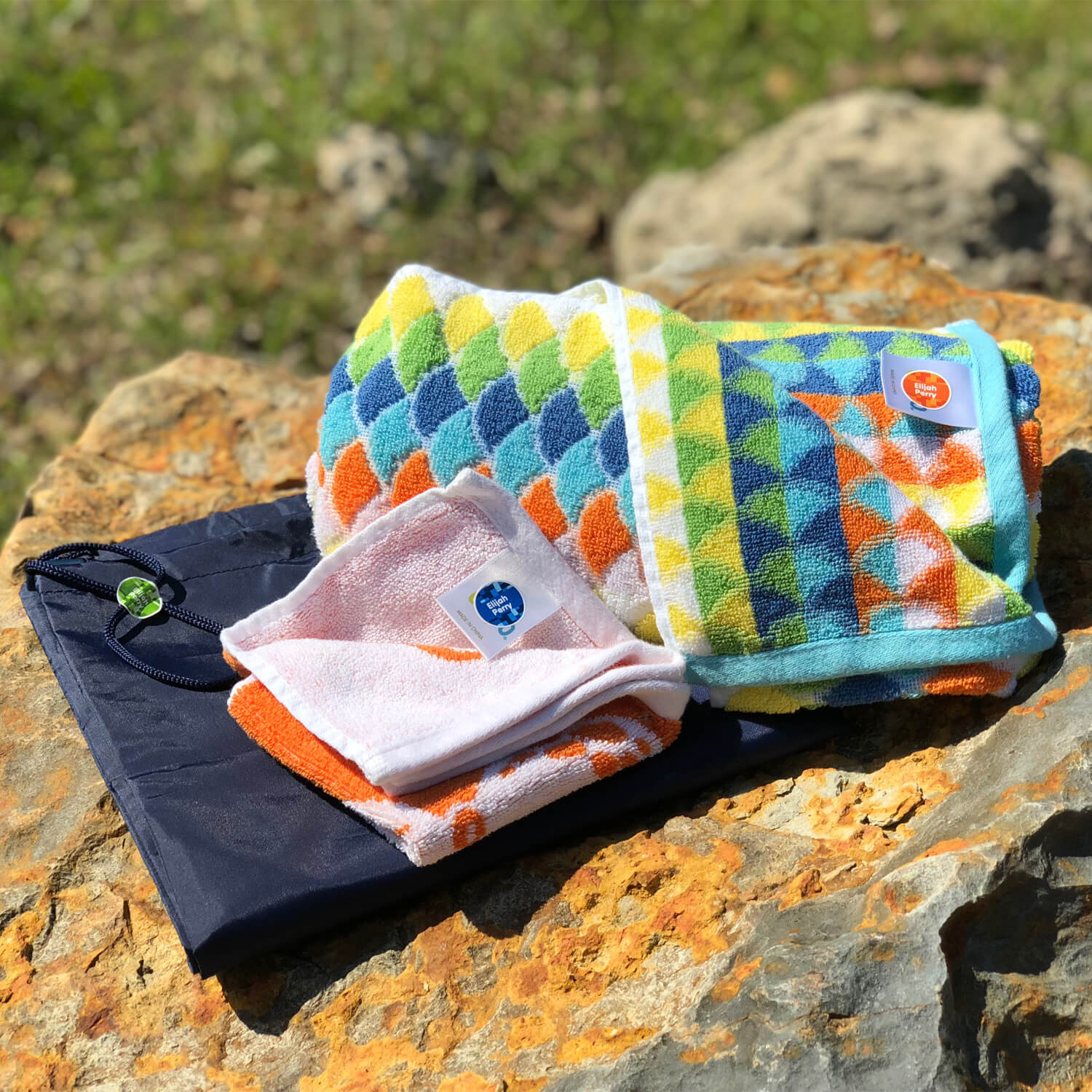 Your son or daughter will be having a blast at their camp, which means they are likely to be distracted with all the fun and less focused on their belongings. That is indeed a good thing (we want them to live in the moment, after all!), but they shouldn't be losing their favorite jacket or T-shirt!
That is why you should apply our Clothing Labels for Camp to all their clothes. These labels efficiently display your child's name or even just their initials in order to make it clear that a particular garment belongs to your son or daughter. We have over 100 designs for kids of all ages, teens and adults. Even camp counselors can label their belongings!
Our Clothing Labels for Camp are extremely durable and laundry-safe. Whether you opt for the iron-on or stick-on options, you can rely on them to stay put. Apply labels to jackets, shirts, pants, underwear– any and all of their clothing items to keep them safe! Plus, for sleep away camp, our labels are great for sheets, pillow cases, towels, and more.
4. And Lots of Other Labels

It's important to label your child's clothes before they head off to camp but these aren't the only items that you should label. Make sure to label all of their belongings! You could label their sneakers and flip-flops with our sturdy Shoe Labels.
You could also choose our Camp Label Pack, which comes with Clothing Labels for Camp, Shoe Labels, and other labels for their backpacks, duffel bags, water bottles, and so much more!
5. Swimsuits

Since it is a summer camp, your child will almost definitely be swimming and/or indulging in water sports quite often, so make sure that they are properly prepared with several swimsuits in tow!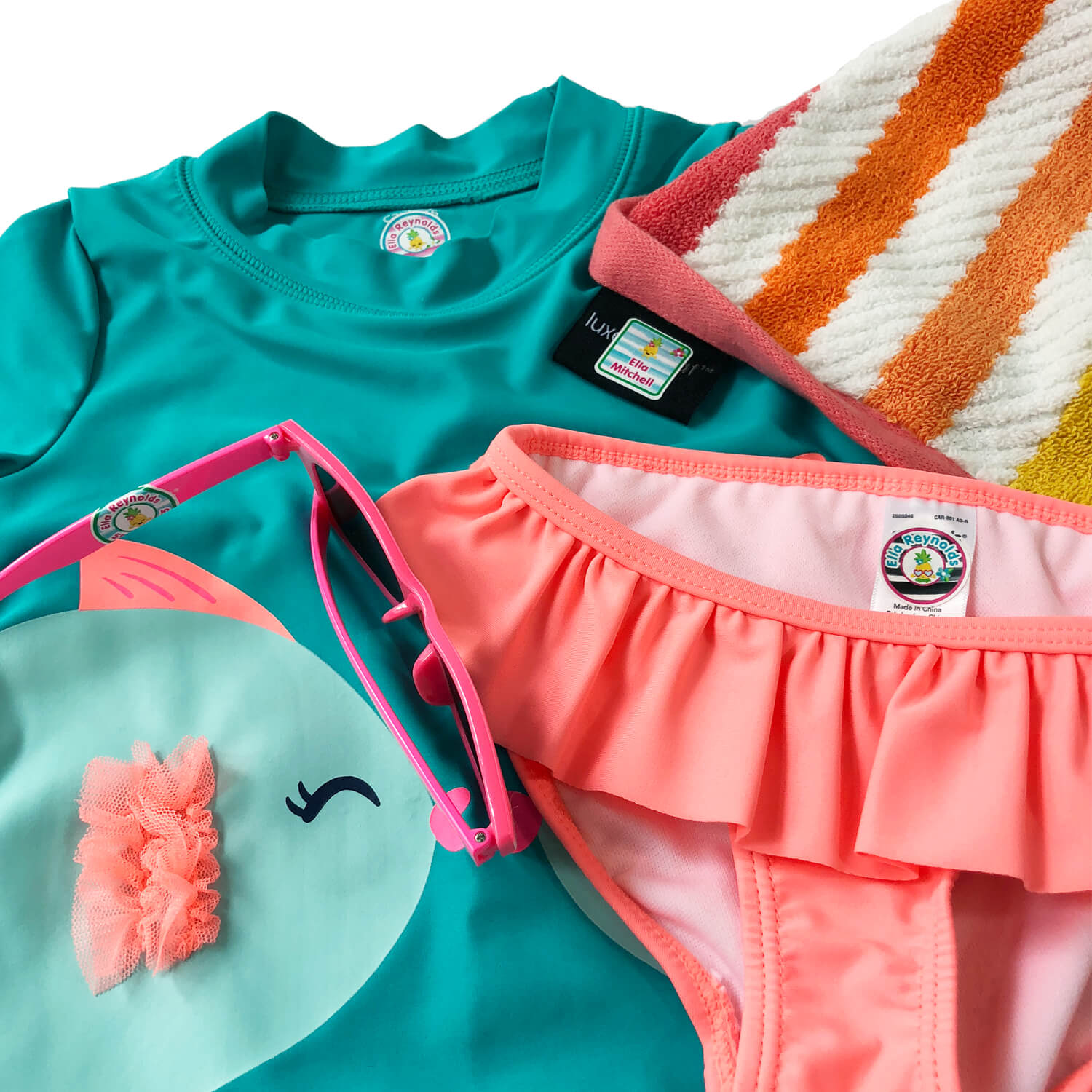 6. Reusable Water Bottle

Your child will be getting a whole lot of exercise in hot weather– and that will require constant hydration and rehydration. That is why you should be sure to pack them a reusable water bottle so they can simply drink water whenever they want or need to, refill, then get back to the fun!
7. Sandals

When your child is showering or walking back to camp from swimming in the lake, he or she will certainly be requiring sandals! Be sure to pack their favorite pair that is comfortable, easy to put on, and waterproof!
8. Sneakers

It is extremely likely that your child will be playing sports and other games outdoors that require a good pair of sneakers. Whether they are playing freeze tag or soccer, their feet will certainly need comfortable sneakers to keep them safe while doing so!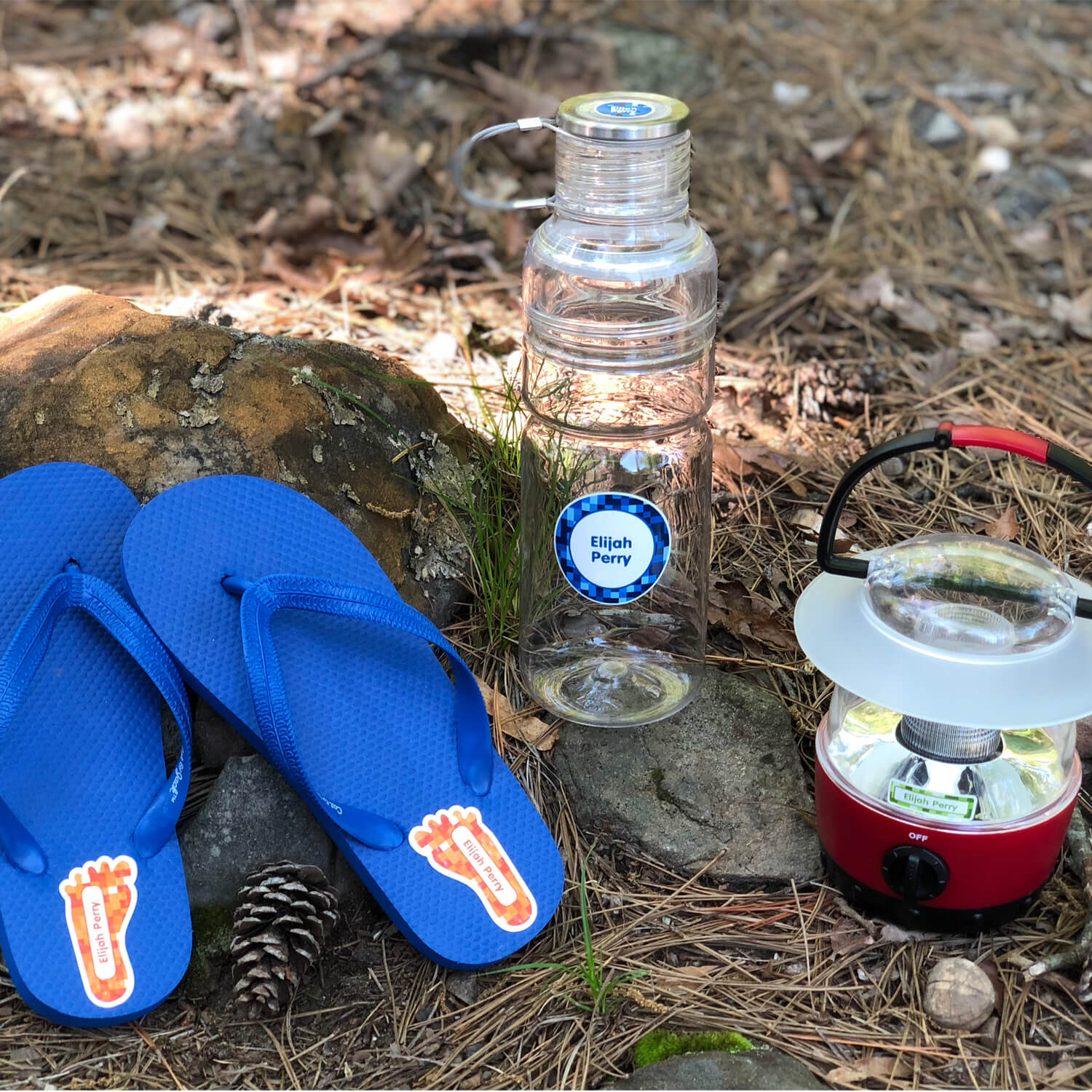 9. All Their Toiletries

You certainly shouldn't forget their necessary toiletries to promote good hygiene! These items include shampoo, conditioner, soap, deodorant, toothbrush, toothpaste, hairbrush, and many others.
10. Towels

Washcloths, a beach towel, and a shower towel (or two) are key for ensuring your child stays clean and dry, no matter where they are swimming or bathing!
11. Plastic bags

It is quite likely that your child's clothes, shoes, and even other belongings will get dirty thanks to dirt, mud, grass, and who knows what else! You can help them keep these soiled items separate from their clean things by packing some plastic bags/ziplock bags. Your child can then place the dirty clothes and other items in the plastic bags!
12. Medication

If your child has specific medical needs, ensure their medicine is packed safely and is clearly labeled with our Safety Labels. Make sure to also speak with the staff about your child's personal needs far in advance!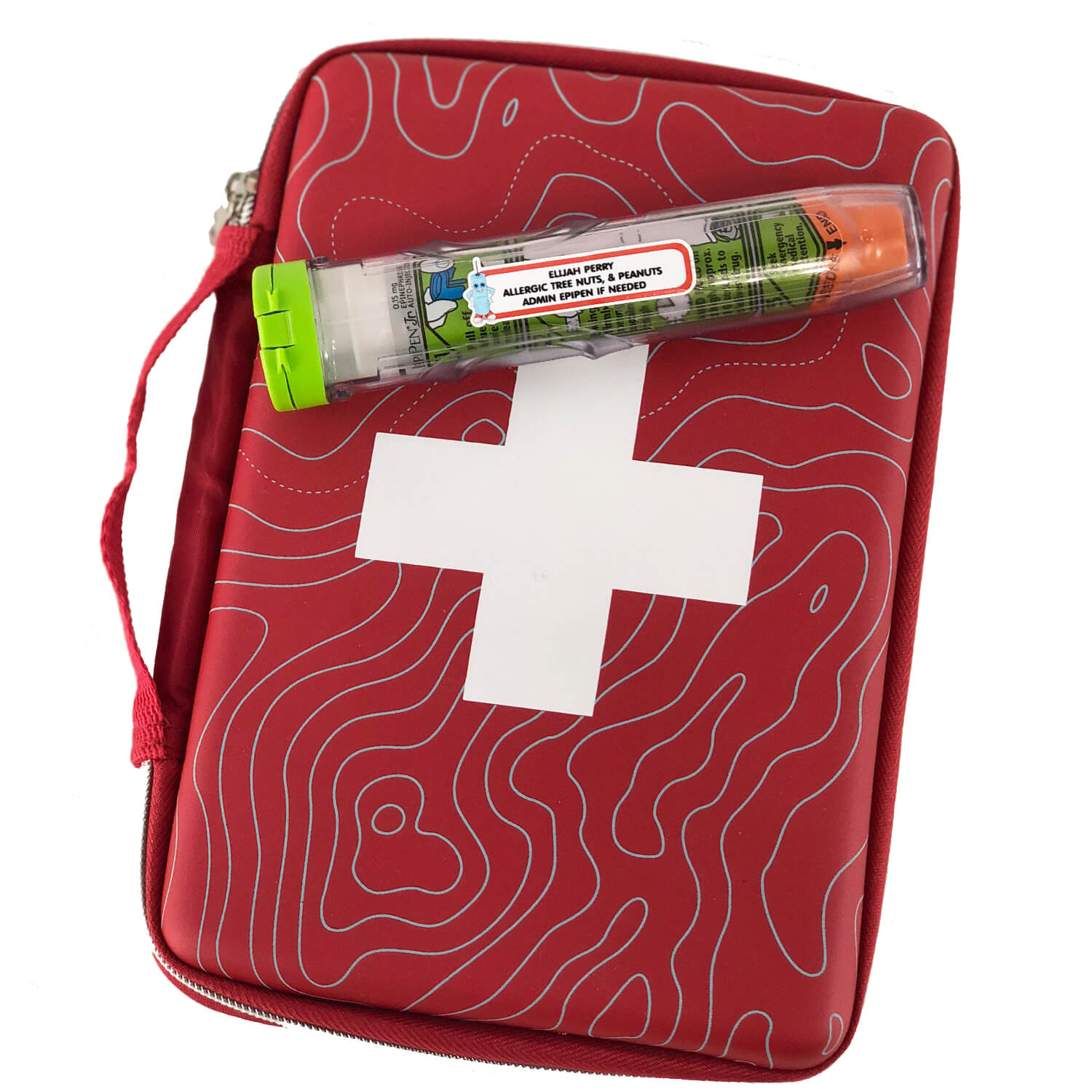 13 .Clothes for All Weather Conditions

Your child needs to be properly covered for all weather conditions (except maybe snow since it is summer). They'll need items like a raincoat, rain boots, long-sleeved shirts, short-sleeved shirts, tank tops, shorts, long pants, underwear, socks, sweatshirts, hats, and pajamas.
14. Books and a Journal (with Pens and Pencils)

In their downtime, they may want to read a book and/or journal every day of their exciting experience! That is why they should have books and a journal– but don't forget to add in pens and pencils to write in their journal!
15. Prestamped Envelopes and Letter Materials

It is quite likely that your child will, at some point or another, feel homesick. They can feel less so by occasionally writing letters to their friends and family! Send them off with prestamped envelopes, paper, and writing utensils so they can update their loved ones on all their camp fun!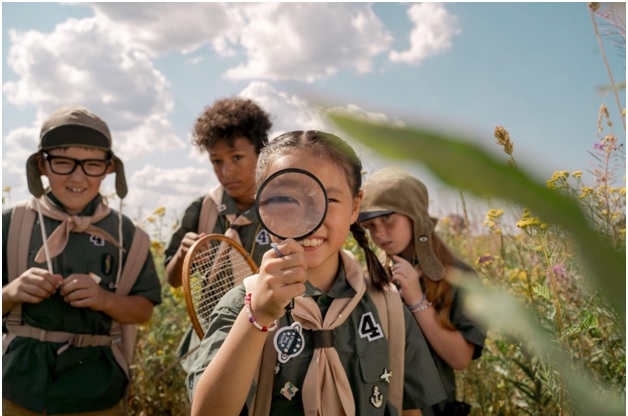 We're excited for your little one to experience the joys of a sleepaway camp! We're happy to help you and your family properly prepare them for this unique time in their lives with all of our labels for camp, too. Be sure to browse all of our personalized name labels and find which ones would be perfect for your son or daughter!