It's easy to feel overwhelmed when you always have so much to take care of during the course of a regular day - but it doesn't need to be that way.
Part of stress management starts with effective organizational skills. They'll help you keep track of what you need to get done and in what order. Knowing where to start is half the battle.
These 10 tips for staying organized will help you declutter, keep everything in order, and most importantly, help you manage stress.
1. Get an early start
Getting up early has plenty of benefits, two of the most important being that you'll fall asleep more easily (keeping a consistent sleep schedule) and that you'll have more time to prepare for the day.
The other thing about getting up, say, an extra 15 minutes earlier is that you'll have time to wake up and mentally prepare - even if you spend that 15 minutes having coffee and catching up on news in bed.
2. Keep a list and stick to it
Writing things down is an excellent way to stay organized, to keep track of what you need to do (and have already done), and for managing stress. Keeping a running, written to-do list is also a great way not to lose track of tasks that aren't recurring (you can use a schedule for that - see below).
How you do it is up to you. Pen and paper are the old way - but if physically writing things down helps you stay organized, then do it. You can also use a dry erase board that can be periodically wiped clean and won't waste paper - or, you can use an app on your phone or tablet!
3. Assign priority to tasks or list them in order of priority
Keeping a written list is important - but you should also assign priority to tasks so you can take out the most important items first.
Writing things down in the order that you intend them to do it is one way to go about it. This will give your workflow a sequence and help keep you on track. It'll also help prevent you from multitasking, which can ruin your focus and productivity.
4. Create a schedule
Certain tasks are recurring - they'll happen every day, every week, every month, or at the same time every year. Putting these on your regular to-do list can make everything get overcluttered, fast.
Instead, use a calendar or keep a schedule with recurring tasks, organized by day, week and month, with all of the things that you need to get done and on which day. Something as simple as keeping a calendar will help prevent you from overlooking anything!
5. Meal plan, then prep and label meals ahead of time
Meals, for example, can fall into your calendar because you can establish a routine for meal preps. Set a system for yourself - say, on a weekly basis, listing out what your plans are for meals for the coming week.
That will help you keep track of the ingredients you'll need to buy when food shopping. Then, establish a nightly routine for preparing lunches for the following day (or, in the morning if you're a very early riser.
Prepare and pack all lunches the night before so they'll be ready to go out the door in the morning without any extra work.
6. Prepare clothes the night before
Speaking of night-before preparations, lay out clothing for the following day on the night before. That way you won't ever scramble in the morning trying to make ends meet or get the kids dressed.
By the way, this isn't just about the kids. Choose your outfit for the following day as well. It's easier to think about it the night before without the stress of a time crunch. That way, in the morning, you can get up, wash, and get dressed with no hiccups and no lost time.
7. Use name labels
Use name labels on anything and everything before sending the kids off to camp, school, or even to a friend's birthday party. Kids have a knack for misplacing things, and labeling can make it easy to tell personal items apart, especially in the event a friend has a similar (or identical) toy, water bottle, lunchbox, article of clothing, or something similar.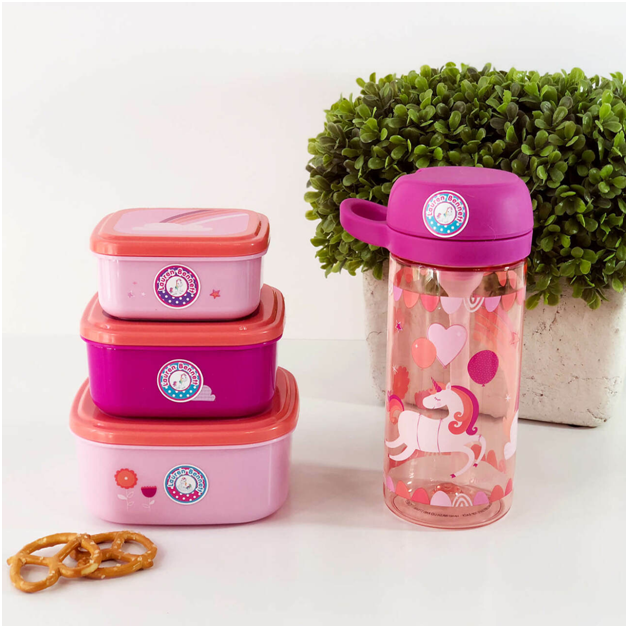 Using name labels may not stop your children's personal items from getting misplaced, but it will help you recover and distinguish them when you need to. Our name labels are available in a number of different sizes, colors, patterns, and configurations so it's easy to create custom labels. They're also extremely durable. They're waterproof, microwave, and dishwasher safe - your kids will probably outgrow the designs before the labels wear out!
8. Make sure everything has a place
Not setting aside a place for everything is inviting discord into your life. Make sure that everything you and your kids use on a daily basis has a place that does not change.
Create a routine for wear to place shoes, coats, and other clothing, as well as toys, kitchen utensils, and more. Discuss them with your family at the beginning or end of each day to ensure everyone knows where things go and follows these rules.
Not having a place for everything is like setting the stage for clutter and disorganization. Once you fall into the routine of use and replacement, it'll get much easier. Plus, once you get into the pattern, it'll help things from getting lost.
Use name labels, too, especially with boxed, binned, or crated accessories. That way you can tell what goes where at a glance without having to dig through it later on.
9. Accept a helping hand
Remember, you are not in this alone. A family is a unit and they should be there to help. Get everyone involved by giving them roles for chores and tasks around the home. Keep track of this in your calendar and feel free to rotate duties to keep it exciting - at least not boring - for the kids.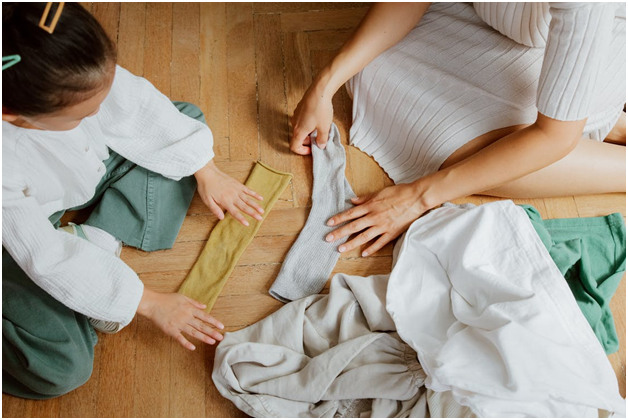 10. Just do it
Keeping a concise and simple list will help you avoid disorganization and keep track of what you need to get done - but it shouldn't give you paralysis by analysis.
What we mean is, overthinking and overpreparing can actually make it harder for you to get done what you need to. Yes, you should write it down in order (as much as reasonable, at least) but at a certain point, but the pen down and just get started on something, even if it isn't the first thing on the list!
11. Give yourself break
Finally, what is perhaps our most important tip to avoid stress: take a break. Set time aside during the day where you can unplug from what you're doing. It's important to mental health and may be able to help you compartmentalize.
Make sure you have time in your day to decompress and do something for yourself - whether you set aside a half-hour in the middle or just take ten-minute breaks throughout.
While this won't specifically help you keep organized, it will help segment the day and will give you a little recharge you actually need to keep track of everything - and then do it!