There is nothing like hitting the town with your little one by your side! Whether you are heading to the corner store or doing a quaint family day trip, the experience is undoubtedly a fun one for all– but it isn't without its stressors.
Your baby will need to feed, will need diaper changes, may need to change their clothes, and so much more. And, when any of these moments happen, you'll want to be properly prepared!
We are here to help you be so for all that needs to be taken care of on your next family outing! Here are 15 items you need to pack in your diaper bag, from baby bottle labels to nursing covers!
1.Baby Bottles
If you are using formula, it's important to pack fresh and clean baby bottles for on-the-go feedings. For formula feedings, you'll need to either bring the formula with you or mix it in the bottle prior to leaving (and bring a bottle warmer!). Don't forget extra bottle nipples, too!
2.Baby Bottle Labels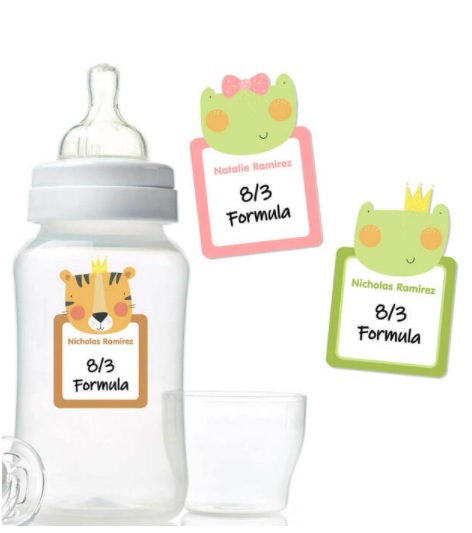 If you need baby bottles, bring along some of our dishwasher-safe Write-On Baby Bottle Labels as well and a writing implement. That way, you can promptly mark down dates, times, and specifically what is in the bottle in order to avoid any future confusion (this is especially handy if you feed your baby but he or she doesn't finish it all in one go!). They're great for both milk bottles and sippy cups!
3.Burp Cloths
Us parents know the importance of burping our little ones post-feeding! Bring along with you some freshly cleaned burp cloths (more than one is ideal) to make sure you can effectively burp your baby but keep yourself clean of spit-up, too!
4.Change of Clothes
Accidents happen! Be sure to pack a change of clothes for your little one just in case any spills or other such mishaps occur. (Bonus points for having their clothes properly labeled with our durable and laundry-safe Clothing Labels for easy locating!).
5.Diapers
Whether you are out of the house for 30 minutes or the entire day, you should most certainly bring enough diapers along with you! There is no way to time your baby's– ahem, "potty" breaks, so make sure you're stocked and ready to go when the moment strikes!
6.Wet Wipes
While clean diapers are key for proper diaper changing, you shouldn't leave the house without wet wipes! Otherwise, if you change your baby's diaper without them, you might risk your child being uncomfortable all day or, worse, getting an infection! Be sure to bring those wet wipes along for the ride.
7.Diaper Rash Cream
Don't forget the diaper rash cream either. This will ensure your baby won't get any undesirable (or even painful!) chafing or diaper rash post-changing!
8.Changing Pad
Sometimes, desperate times call for desperate measures. You may be required to change your baby's diaper in a less-than-ideal location, like a gas station restroom. Bring along a changing pad in order to best keep your baby clean, comfortable, and happy!
9.Leak-Proof Bag
For those soiled clothing items or other garments, bring along a leak-proof bag. That way, you can bring those dirty items back home with you without them soiling anything else in your diaper bag!
10.Nursing Pads
If you are a nursing mother, you know all too well about breast milk leakings. To ensure you are completely comfortable on your day out, bring along some nursing pads (and even put a couple in your bra to feel an added amount of comfort)!
11.Nursing Cover
You won't always be able to feed your baby when he or she is hungry in a private room. Bring along a nursing cover of your choice so you can comfortably feed your hungry baby but feel protected from strangers' views.
12.Blanket
When you're wheeling your child in their stroller or holding them in their carrier, you should have a blanket ready to go in case the temperature drops lower than you had anticipated– indoors or outdoors! Bonus points for having their blanket labeled with one of our Clothing Labels (they work on blankets, too!), as blankets are wont to get mixed up or lost!
13.Pacifier
If/when your baby is teething or needs to self-soothe for any other reason, have their favorite pacifier close by to make sure they can be as relaxed and comfortable as possible!
14.Sunscreen
You should always have a bottle of baby-safe sunscreen with you in order to protect their skin from the harmful rays of the sun!
15.Hat (and Other Winter Gear)
On the opposite side of the spectrum, bring warm clothing accessories to ensure that your baby is kept warm, especially during the colder winter months. These include hats, scarves, extra socks, etc.
Now that your diaper bag is all stocked and ready to go, don't forget to label all of these items! That way, they are less likely to be mixed up, lost, or left behind somewhere. Browse all of our labels, including Shoe Labels, Baby Bottle Labels, and Clothing Labels (which can be used on clothes but also towels, bibs, blankets, and more!).